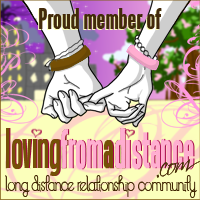 I am dedicating this blog post to the folks at www.lovingfromadistance.com . I have been following them on Facebook and Twitter for a while but I finally signed up and have been looking around in the forums, blogs, groups and shop. I love it! I have been in this relationship for so long, and I have had no support other than Vernon. No one understands, sometimes I even feel like people think I'm making him up. No one sees him as my equal partner. I don't talk about him really except with those very special friends who have actually met him, and complete strangers. Anyone that has met him thinks he's wonderful.
I have really enjoyed this site, reading about people with a variety of concerns, questions, celebrations and I feel myself celebrating with them. I think a long distance relationship (LDR) is a wonderful thing. If you can survive through an LDR you can survive anything. It teaches you patience, understanding, appreciation and loyalty. You have so many opportunities to lie, cheat, accuse the other of the same, take a line in an email to mean something negative when in fact it was said in humor... it is a challenge. I hope to connect with people in a new LDR and people that have been in an LDR for several years. I have yet to find someone who has been in one as long as ours, and if you are that person reading my blog please come forward as I am so interested in hearing your story!
I have managed this LDR with Vernon for nearly 11 years. It has become second nature, a part of my life, who I am. He is my other half and he just happens to not be here with me. We both have adjusted while still having our bad days apart, but overall I think we handle it better than we did 5 years ago. I will be going through a major life change very soon and I have been dreading it for so long. My baby girl, the girl I have raised by myself since she was almost 2, the baby girl who I feel I "grew up with" is now going to leave for college in one month.
She has been my strength, my reason for living, my reason for making the decisions I have made on anything, my reason for being in an LDR for over 10 years. She is my #1 and always will be. We are so close and do everything together.
We even have our own language which drives other family members and friends crazy. We have obsessions like Jackie Chan movies, Charmed, Gilmore Girls (it's so much like us it's freaky! lol), and most recently Buffy the Vampire Slayer. We are still working on season 7 and it's getting pretty dark and scary and intense. Anyway, she's my best friend and she's going to be leaving me. Don't get me wrong, I want her to go off to college, see the world, reach her goals... if that meant never seeing me again then so be it, as long as she is happy. But... I will miss her. I will be sad without her and that will put my LDR at a different level that will make me feel like I'm starting over again. I'll have one of those sad days missing Vernon and instead of coming home to my wonderful daughter who will take my mind off of my misery, I will be coming home to an empty house to torture myself with my thoughts of misery and loneliness. I will now be maintaining TWO LDR's and it's gonna suck. Vernon understands this and will be the most wonderful partner that he always ends up being and will put up with my adjustment as I will be very emotional for a while.
I want to thank Michelle and Frank for starting www.lovingfromadistance.com for people like Vernon and I. I now have a place to go to express my feelings without being judged when Vernon and my daughter are not available. If you haven't checked this site out, click on the badge at the top of this post, or the link on the right. There is something for everyone in there. You guys rock!